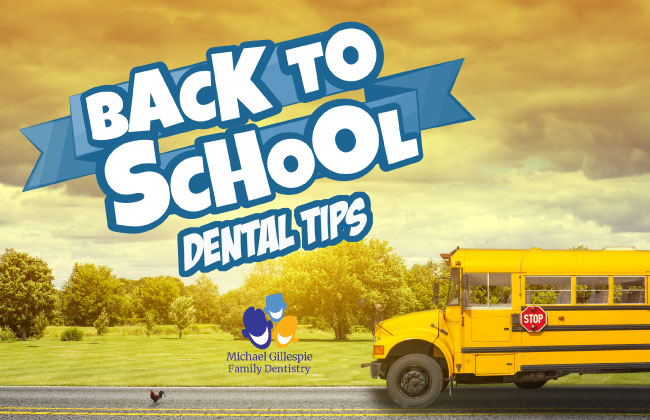 School days, school days, dear old Golden Rule days! Now that summer is fading, it is time to develop a good routine for success at school and at home. Here are several tips to ensure you get an "A" in dental health in this upcoming school year!
Get an Exam Before School Starts

This will allow you to address any problems before you get busy with academics, sports, and other activities.

Develop a Daily Flossing & Brushing Regimen

Floss your teeth first to remove food debris and plaque, then brush with an ADA-approved toothpaste. Two minutes, twice daily. Stop by our office and pick up a free 2-minute tooth timer, compliments of our team!

Pack Healthy Snacks & Lunches

Forego the sugary drinks and snacks that can lead to tooth decay. Instead, pack your lunchbox with raw fruits and vegetables, cheese, and yogurt. Skip sodas and substitute milk or water. Our bodies are 60% water, so stay hydrated!

Wear a Sports Mouthguard

Many dental emergencies can be prevented by wearing a simple "boil-and-bite" mouthguard, which can be found in many local drug stores. Protect those permanent teeth from flying elbows and helmets!
Best wishes for a successful school year. We can't wait to see what you accomplish! Be sure to visit us every six months.
Schedule My Checkup