ind out how this long-term tooth replacement could boost your appearance!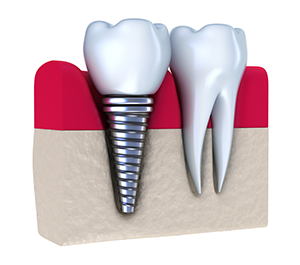 Dental implants are pretty amazing restorations because they are the only ones that actually both look and even act similarly to natural teeth. This is because our Waynesville, NC, dentist Dr. Michael Gillespie places this small, biocompatible titanium post into the jawbone, where it naturally fuses together with the bone and tissue in your mouth so that you can enjoy a permanent and stable base from which to hold a false tooth.
Plus, dental implants offer an array of wonderful benefits for your oral health that you probably didn't even realize. Here are just some of the ways that getting dental implants in Waynesville, NC, could greatly improve your smile:
They preserve the overall strength and durability of your jawbone and prevent bone loss (one of the most common complications of tooth loss). No other tooth replacement options actually stimulate the jawbone.
Since the implant prevents jawbone deterioration you also won't have to deal with structural changes in your face that you would have to deal with if your jawbone began to lose density. Those with bone loss will eventually deal with signs of premature aging since the jawbone will start to recede, causing issues like sunken cheeks.
Once an implant is placed this will fill the gap in your smile where your missing tooth used to be. Filling that gap prevents the rest of your teeth from shifting into that open space, which can lead to crooked teeth, gaps between teeth and other misalignments.
Once an implant fuses together with the jawbone you now have a restoration that could last you the rest of your life. Plus, you won't have to worry about the implant moving or shifting around in your mouth (like you might have to deal with if you have dentures). This means both speech and chewing are fully restored. So go ahead and enjoy all of your favorite foods again!
With a beautiful, full smile again that you can feel confident in you'll also feel better about the way you look. Perhaps you were canceling social gatherings because you were embarrassed by gaps in your smile. With implants, now you are ready to improve your appearance and your social life!
If you are ready to get dental implants from our Waynesville, NC, dentist then it's time you gave us a call. We would be happy to schedule a consultation for you.