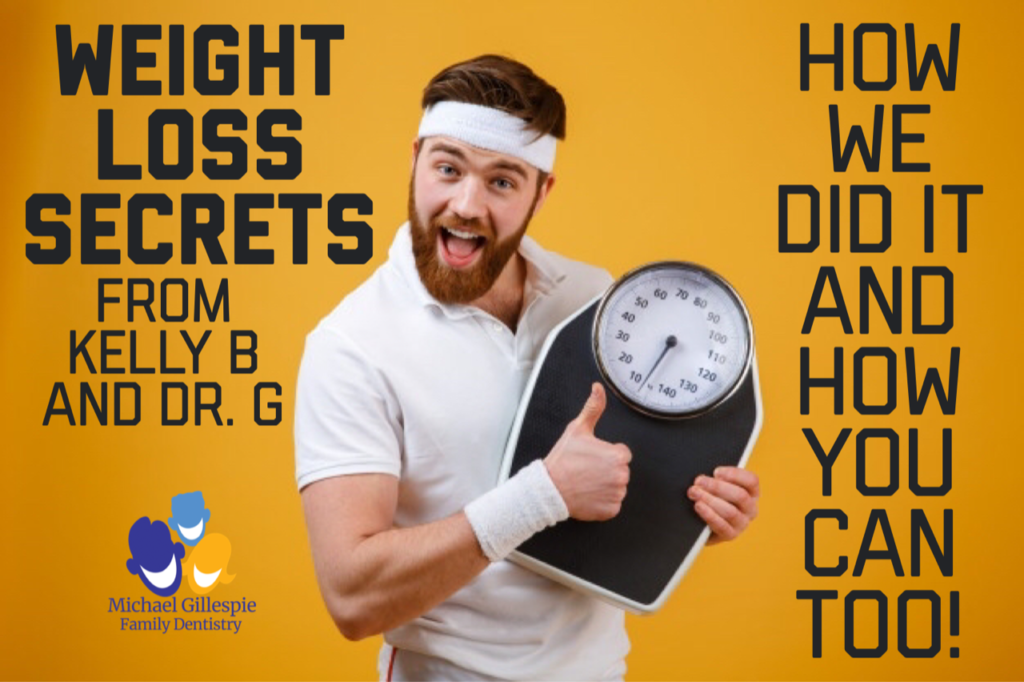 Many people set a goal of losing weight as part of their plan for a new year. Over the past year, Kelly B has lost 31 pounds, and Dr. G extended his weight loss to 60 pounds total. Below are some tips that have helped each of them reach their goals.
KELLY B
First and foremost you must have an end goal in mind and be ready to make a healthy lifestyle your #1 priority!
Eat plenty of healthy veggies, fish, lean meat, berries and nuts daily.
Drink plenty of water throughout the day.
Join weight management groups on social media for daily inspiration, healthy recipes, and coaching.
If you are following a KETO plan, keep your carbohydrates below 20 mg/day.
Healthy fats are great for your body in moderation: avocados, olives, nut butter, olive oil, coconut oil, full fat plain yogurt, eggs, butter and cheese.
Foods to avoid are fried foods, trans fats, and processed foods.
Remember that you didn't put the weight on overnight and you are going to lose it overnight. Set a reachable weekly goal. Discouragement is a game killer!
DR.G
Find your "why". You need a compelling reason to lose weight or old habits will quickly creep back. It could be a health scare, your desire to be around for kids and grandkids, or another reason, but it needs to have some emotion behind it or you may keep putting it off.
Automate your meals. Poor planning leads to poor decisions, and that is why many of us eat fast food and processed convenience foods for breakfast and lunch. I "meal prep" on Sundays for the work week. I cook my meals and place them in meal-specific containers. Then all I need to do is heat 'em up and eat 'em up! Some of my go-to recipes are below.
Use positive self-talk. Be your own coach. When tempted, ask yourself "Does this bring me closer to my goal or farther away." Or "Am I hungry or just bored?" Many times we eat out of habit and not because we are hungry.
Walk. A good hour-long walk clears your mind, improves your circulation, and releases endorphins which are our body's "feel good" neurochemicals. And it burns calories!
Do a little better each day. Small changes lead to big results. If you set small goals and reach them, you will be surprised and inspired as they add up to big improvements!
RECIPES
Overnight Oats
½ cup Old-Fashioned Oats
1 cup milk
Walnut pieces
Blueberries
Sweetened coconut flakes
1 tsp Chia seeds
1 tsp Flax meal
Ground cinnamon
I "eyeball" the walnuts, blueberries, coconut, and cinnamon. Find the amounts that work for you.
Place all this in a serving saver container and refirgerate overnight. It will be ready for you to heat up in the morning, or do like I do and eat it cold. I usually make 2 days' worth at a time because it starts to get goopy on the third day!
Grilled Chicken and Roasted Vegetables
Chicken breasts
Olive oil
Herbs de Provence
Assorted Vegetables of your choice. I've done this with brussel sprouts, sweet potatoes, butternut squash, red peppers, yellow squash, zucchini, broccoli, cauliflower, carrots, and many more.
Heat oven to 400 degrees.
Cover a baking sheet with aluminum foil.
Cut up assorted vegetables and place on baking sheet.
Lightly coat the vegetables with olive oil and season with Herbs de Provence. (You can use your favorite seasoning, but I am also watching sodium!)
Bake at 400 degrees for 30-35 minutes.  Stir them up at the halfway point so all sides get roasted.
Heat grill to medium-high.
Lightly coat chicken breasts with olive oil and season with Herbs de Provence.
Grill 5-6 minutes each side until done.
Put chicken and vegetables into individual lunch size containers. Now you don't have to decide "what's for lunch?"