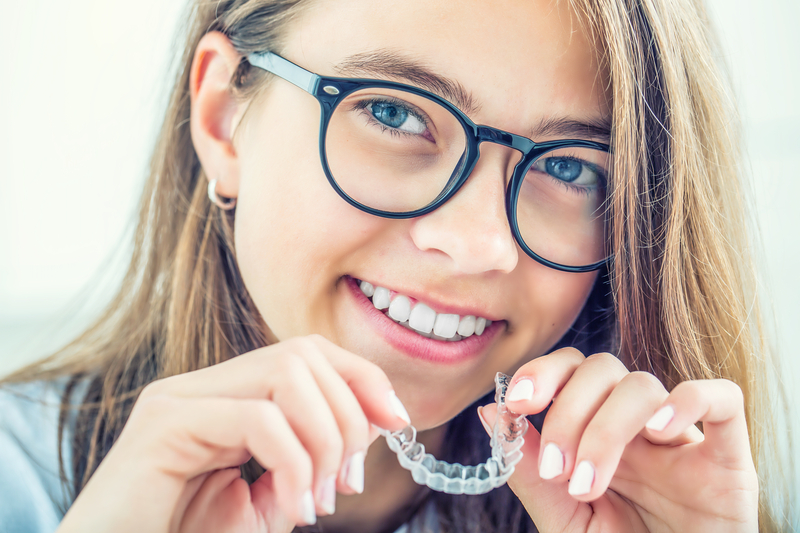 Many adults are interested in orthodontics but are hesitant to return to the "tin grin" smile of their youth. Thanks to modern technology, we now have a braces-free option to straighten teeth.
HOW DOES IT WORK?
Orthodontic aligners are made from a thin, but strong plastic material. A series of custom aligners is made for each patient from a computer-generated model based on their teeth, as well as an ideal completion spot. Each aligner in the series moves the teeth incrementally over a period of two weeks. At the end of that period, the patient is given another set of aligners and the process continues until treatment is complete. The aligners are worn 24 hours per day and removed only to eat and brush.
HOW LONG DOES IT TAKE?
Treatment times vary depending on the degree of tooth movement needed. Most cases are completed within 6-12 months.
IS THE RESULT THE SAME AS TRADITIONAL BRACES?
In our experience, clear aligners achieve and acceptable result for most patients. It is ideal for relapse cases, in which a patient had braces as a child but is experiencing crowding and rotation. There are certain types of tooth movement which are more suited to traditional braces. We are happy to offer our opinion on which mode will work best for you.
HOW MUCH DOES IT COST?
Again, this depends on the amount of tooth movement needed. More movement means more aligners and more patient visits. Fees range from $2,800-$5,200.00.
HOW DO I START?
We are happy to provide a consultation to evaluate your particular needs. We'll handle it from there!
Clear aligner therapy is a great solution for those who desire orthodontics without a tin grin!
Dr. Michael Gillespie has practiced dentistry in Waynesville, NC for 28 years. His award-winning team has the skill and experience to treat your entire family.