Dental Implants in Waynesville, NC
Don't let missing teeth put a damper on your every day life. Dental implants can give you back not just a full, beautiful smile, but full functionality of your mouth to improve your oral health. Our practice provides a complete suite of dental implant services so we can guide you through the entire process whether you need to replace one teeth or an entire arch, without ever needing to refer you to an outside provider.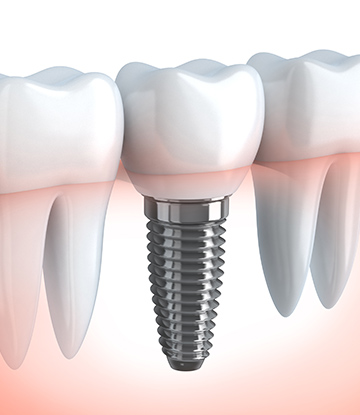 Advantages of Dental Implants
Why are so many people choosing dental implants over traditional bridges or dentures? There are many different benefits that tooth implants bring to the table. Here are some of their main advantages:
They're fixed in place so they feel and function like natural teeth (and you won't have to worry about them slipping out).
They're designed to look like your other teeth and blend in naturally with your smile.
They're made to last many, many years with proper care.
They're easy to take care of—no special products or steps required.
They prevent your other teeth from moving around into the open space, which can mess up your teeth alignment.
They help stimulate your jawbone like natural teeth do, keeping the bone from deteriorating.
Getting Dental Implants
Getting a dental implant is a two step process. First, we place the implant itself, a small titanium post, into the space where you are missing a tooth. We then allow that area time to heal and the implant to fuse with the jawbone in a process called osseointegration. This ensures the implant is a strong, stable foundation just like a tooth root.
Once the healing process is finished (this usually takes a few months), we'll bring you back to complete the procedure. This entails placing the tooth-like restoration on top, whether that be a dental crown, bridge, or denture, depending on how many teeth we are replacing.
Denture Stabilization with Implants
Do you have dentures that just don't quite fit right? If you're tired of dealing with the slipping and discomfort of ill-fitting dentures, we can stabilize them using dental implants. We'll place dental implants that you denture can snap on to for a more secure hold. This is a more affordable alternative for patients who are missing an entire arch of teeth but still want something more comfortable than dentures kept in place with adhesives.

Hear from Some of Our Patients
"Dr Gillespie and his staff have been taking care of our family for almost 20 years. They are always extremely thorough and professional. I would highly recommend them to anyone!"
– Laura P.
"From the moment you walk in the door, the staff puts you at ease & everyone treats you with the utmost care & courtesy."
– Peggy Q.
"Dr. Gillespie has been my dentist for about 14 years… I really appreciated their concern for me and my new smile. The entire staff is the best."
– Sandy R.
"They're so accommodating and most importantly, always welcoming and have a comforting environment. I never feel embarrassed and actually love coming here."
– Karen W.