One-Visit Dental Crowns
Your time is precious, and we know that your life is busy enough already before factoring in trips to the dentist. At Michael D. Gillespie, DDS, we want to help restore your dental health quickly and effectively so you can get back to your daily routine with a healthy smile as soon as possible. Normally, if you needed a dental crown, it would take multiple visits spread out over a couple of weeks. But at our Waynesville, NC dental office, we're excited to have CEREC® technology that allows us to fit you with a custom-made crown in just one appointment.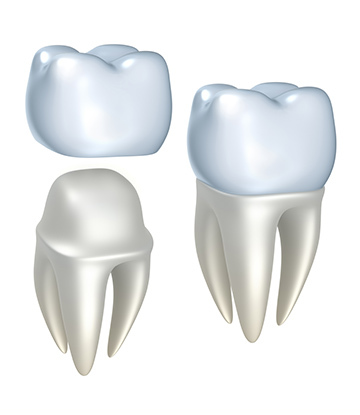 Reasons You May Need a Dental Crown
Before jumping into the many advantages of CEREC one-visit crowns, it's important to know why you might need to get a dental crown in the first place. Here are the most common situations that call for one:
Severe tooth decay
Weakened tooth
Worn down tooth
Misshapen tooth
Cracked tooth
Broken tooth
Root canal treatment (for added support)
Dental bridge (to secure it in place)
Benefits of One-Visit Crowns
Convenience
The biggest benefit of one-visit crowns is right there in their name: they can be completed from start to finish in a single appointment. Traditionally, the dental crown process entails coming in for an appointment to take impressions, waiting a couple of weeks for a dental lab to make your crown, and then coming back for it to be fitted. With our on-site CEREC machine, we can eliminate the middle step and take care of everything in one go. You'll walk out that same day with your customized restoration!
Comfort
The CEREC machine uses digital impressions, which can be taken in a faster and more comfortable process than traditional impressions (the ones that involve those goopy impression trays). Since you're not waiting in between appointments for your permanent crown, you won't have to wear a temporary crown which can oftentimes feel uncomfortable or not fit quite properly.
Accuracy
With the digital impressions of CEREC one-visit crowns, we can more accurately plan your treatment and design your restoration. Since the equipment used to fabricate your crown is right there in our office, we can make any necessary adjustments on the spot so you're good to go before you leave, instead of having to wait for an off-site dental lab to make adjustments.

Hear from Some of Our Patients
"Dr Gillespie and his staff have been taking care of our family for almost 20 years. They are always extremely thorough and professional. I would highly recommend them to anyone!"
– Laura P.
"From the moment you walk in the door, the staff puts you at ease & everyone treats you with the utmost care & courtesy."
– Peggy Q.
"Dr. Gillespie has been my dentist for about 14 years… I really appreciated their concern for me and my new smile. The entire staff is the best."
– Sandy R.
"They're so accommodating and most importantly, always welcoming and have a comforting environment. I never feel embarrassed and actually love coming here."
– Karen W.